I LOVE Avon. I have never personally sold it, but luckily for me, my sister-in-law does! I always get so excited when I get a new catalogue. I love to see what new products there are, and so often there are promotions on my old favourites, which I have so many of. Here are my top 5:
5.
Naturals Body Wash
I have had these in SO MANY scents, and they all smell so good. They also lather up really nice on a loofah, and they're just one of my favourite body washes of all time. My all time favourite scent is vanilla, but they're also coming out with limited edition scents all the time which I always like to try out. Currently I have one in Strawberry & Guava.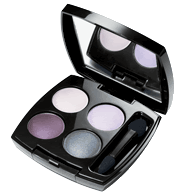 4.
True Color Eyeshadow Quads
These eyeshadows have really great pigmentation and the quad provides you with 4 colours to create a perfectly quardinated smoky look. I have these in Purple Haze, which is shown in the picture, and also in Aquadelic which was a limited edition quad and comes with an aqua blue, sandy beige, coral pink, and dark blue tinted grey.
3.
'Temptations' Body Mist
I love perfume for special events, but for every day use I prefer using body mists that are less overpowering. These smell SO GOOD and I would say they are a little stronger than regular body mists that hardly linger, but still less potent than perfume. I have 2 scents from the 'Luscious' collection - Naughty Orange Blossom (shown) and Ravishing Rose. I've also sampled scents from both the 'Blushing' and 'Romantic' collections, and they all smell so good that I just want all of them!
2.
Glimmersticks Waterproof Liners
These eye-liners come in the form of a twist-up pencil, which is my favourite kind of eye-liner - I find that they are the easiest to apply. Also, they are so thin that it's easy to create a nice fine line, or build it up for a thicker line if you want. Glimmersticks also come in regular non-waterproof, but I always prefer waterproof products on my eyes - that way it doesn't wash off your waterline! Also, I am known to be a cryer, and I don't want my make-up all over the place, lol. I have this product in Smokey Grey and Blackest Night.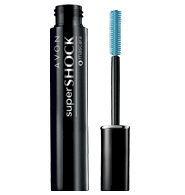 1.
SuperSHOCK Waterproof Mascara
I love Avon mascaras and I always have, and will almost always choose them over any other drugstore mascara. However, this has been the most recent one I've tried, and it beats out all the others. It is lengthening and thickening all in one, and it creates such a dramatic look for your eyes. I love having lashes that stand out without using fake lashes, and this mascara definitely does the trick. This mascara is also available in regular non-waterproof, but like I've said, I prefer waterproof eye products. I own this product in black - I believe it also comes in brown.
Honourable Mention
: Nailwear Pro Nail Enamel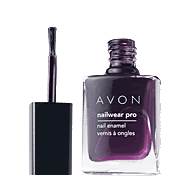 I love the selection of colours that Avon offers for their nail polish. Some of my favourite nail colours are from Avon, including Vintage Blue, Urban Grey, and Real Red. However, it didn't make my top 4 because it's definitely not my favourite polish as far as consistency goes, as well as how long it lasts. The consistency of this polish is very thick and it's hard to get a nice thin layer on. It also takes forever to dry. Also, because of the thickness of the polish, it peels off very easily and I can never get it to last on my nails for very long. So even though I love this polish because of the colours that are offered, it is not my top pick for an Avon product.