Usually, I'm all about getting a natural tan in the sun - not using a tanning bed or any kind of lotion or spray. However, I am tired of being pale, and it's not been warm or sunny enough yet this year to be able to go out in the sun, so I decided to buy a gradual tanning lotion. I decided on the Life Brand (which is the Shopper's Drug Mart brand) Daily Glow Firming Moisturizing Lotion for fair skin tones.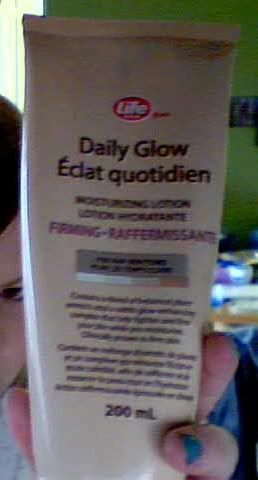 The bottle says that this lotion "contains collagen and elastin to help firm and tighten the appearance of your skin while adding a subtle summer glow."
The first thing I noticed when I applied this lotion was the smell, which was strong and slightly bitter, and lasted all day. Not appealing at all. It does live up to its promise of being very moisturizing though. As for the 'summer glow' it's supposed to give me, I haven't seen any sign of darker skin - my legs are still as pale as ever. Though it might be because I bought the kind for fair skin tones - maybe I should have gone for the one for medium skin tones. Also, the store brand may not be as good as say, the Jergens brand.
I would not buy this product again, though I might continue using it just for its moisturizing properties. I also think I might try a different brand and one for a darker skin tone to see if that works.