This is my beloved Guess purse that my parents bought me 2 Christmas's ago. It is still the best bag I've ever had. It's so durable and pretty and big, with lots of room!
It's quite a mess in there, since it has so much space. There are a lot of old receipts and movie stubs and other garbage like that that I should probably clean out.
However, here are the main things/objects of any interest or note.
2011-2012 Calendar/Planner. I really don't even use this. I should.
Medicine bag. Contains things such as gravol, ibuprophen, benadryl, and a lipgloss, all of which are essential to have on me at all times.
Little Mermaid playing cards. These have come in handy more often then you think, especially when waiting for something!
iPod nano. I don't always have it in my purse, but I do carry it with me often enough to include it.
Bath & Body Works Sweet Pea scented anti-bacterial hand gel.
Little gloves - just in the winter when my hands are bound to get cold!
Mini-brush for when the wind messes with my hair, lol.
I alwaysalwaysalways carry gum. I am somewhat addicted to chewing gum.
My Acer Liquid E cell phone.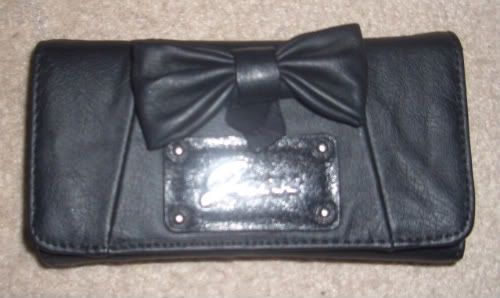 And my wallet of course! Just got this Guess one this Christmas, to go with my bag. It doesn't quite match but I love it.
Also, I'll often carry whichever book I'm currently reading with me in my purse as well. One of the reasons it's so nice to have a big purse! Lol.
I tend to switch my purse with the seasons, as well as the things that are in it. I will probably do another one of these posts when that happens!